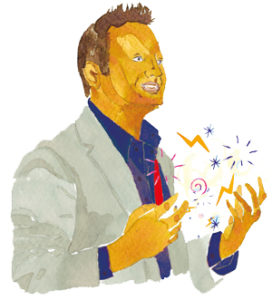 Doing hands-on activities with children is the best way to get them exploring the world around them and thinking like future scientists and engineers. However, many parents lack confidence in doing science with their children, compared with reading, writing or drawing. Teacher and author of 'Mr Shaha's Recipes for Wonder' Alom Shaha will show how every child can be a scientist even if parents don't have all the answers!
Date: Thursday 8 March 2018
Time: 7 pm
Venue: The Royal Institution, London
Tickets: rigb.org
---
Join us for a wondrous afternoon of science activities that you can do at home. Alom Shaha will show his favourite demos and you can try them afterwards! From simple things you have lying around the house, Alom will show you how to create exciting and hands-on science anywhere in the house. The event will consist of a talk in the theatre, followed by hands-on activities around the building.
Date: Sunday 11 March 2018
Time: 1:30 pm
Venue: The Royal Institution, London
Tickets: rigb.org
---
Forum Books Super Science Saturday
Date: Sunday 17 March 2018
Time: TBC
Venue: Parish Hall, Corbridge
Tickets: TBC 
---
Seven Stories event (Part of British Science Week)
Date: Sunday 18 March 2018
Time: 11:00 am
Venue: 30 Lime St, Newcastle upon Tyne NE1 2PQ
Tickets: TBC 
---
Booked! West Dunbartonshire Book Festival
Date: Saturday 12 / Sunday 13 May 2018
Time: TBC
Venue: TBC
Tickets: TBC 
---
 Stoke Newington Literary Festival
Date: Sunday 3 June 2018
Time: 11:00 am
Venue: TBC
Tickets: TBC 
---
Date: Wednesday 6 June 2018
Time: 12:00 – 1:00 pm
Venue: Cheltenham Town Hall
Tickets: Science for Schools 2018
---