Why Don't Things Fall Up?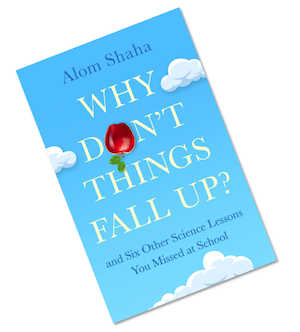 Has a child – or anyone else – ever asked you why the sky is blue? Could you explain why ice cream melts? Have you forgotten why scientists think the universe started with a Big Bang, and do you understand the difference between respiration and breathing? Why Don't Things Fall Up? will gently remind you of everything you may have learnt once upon a time, but have somehow forgotten along the way. If you've ever changed the subject when a child has asked for homework help, or if you have the curiosity of a seven year old yourself, or if you know everything but have forgotten the basics or don't want to know anything except the basics – then this is the book for you.

Using questions asked by children as a starting point, Alom Shaha (who has spent over two decades trying to help people of all ages understand this stuff) takes us on a tour of the "big ideas" of science from his unique perspective. His experience as a dad, a teacher and science communicator means he knows exactly what people don't know -and especially the misconceptions and other intellectual hurdles which prevent us from grasping key ideas. Combining his proven skill for explaining science with storytelling and flashbacks to school experiments, Why Don't Things Fall Up? reminds us that science is not just for scientists – it's a human endeavour that enriches all our lives.